Beautiful Subuiga Ngare Ndare, Meru Kenya- Attractions, Accommodation, Activities

When you Google Subuiga, what you get is all about the gruesome accidents that occur on this hilly section of the Meru Nanyuki Road. Rarely will anybody mention to you the immense economic potential of this area. Located within the Meru, Isiolo and Nanyuki triangle, Subuiga is characterised by diverse landscapes, rolling hills interrupted by rocky outcrops intricately merged into a beautiful scenery reminiscent of a canvas painting . The rocky outcrops culminates into Mt Kenya, an extinct volcano, home to point Batian, the second highest peak in Africa. Mt Kenya is undisputedly the most dominant and the most beautiful feature in the region. It draws lots of visitors from all over the world, adventurous travellers with intentions of scaling its heights or hiking in the moor lands and religious zealots who come to pray within its serene grounds.
Much of Timau all the way to the Isiolo Nanyuki/ Meru junction (popularly known as Subuiga) are intensively cultivated undulating plains. Wheat farms cover as much as the eyes can see. Equally fascinating are what appears to be lakes or ponds from afar. These are green houses for flower and horticulture farming. Flowers and horticulture produce from these farms are for export market. Also noticeable are huge flocks of sheep and herds daily cows.
This region also has a large number of private ranches and community group ranches which have been converted into wildlifesanctuaries. Notable among them are Lewa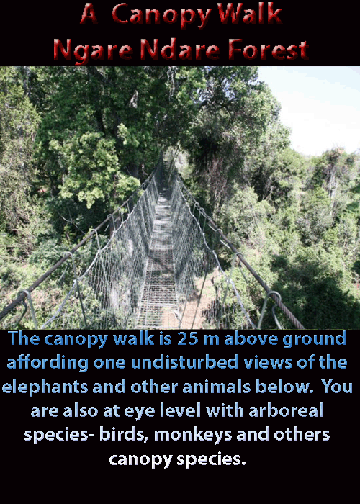 wildlife conservancy and Ol Pejeta Conservancy. Both have large numbers of Black Rhinos. Other ranches include Borana, Il Ngwesi, Lekkuruk, and Ole Lentile. Accommodation in these ranches is very exclusive attracting the creme de la creme of the world famous. Film actors, great athletes and royalties have been hosted in them. A famous location is the Rutundu Log Cabins where Prince William got engaged to his wife. Lewa is also the Princes hideaway from roving eyes of the public. Other exclusive accommodation facilities include Borana Lodge, Laragai Lodge, Tassia Lodge, Lewa Safari Camp, Lewa House, Wilderness Trails, Ol Pejeta Bush Camp, Ol Pejeta Ranch House, Sweet Waters Tented Camp, Mt Kenya Safari Club, Mt Kenya Holiday Homes. Accommodation is also available at Naro Moru River Lodge and Bantu Lodge. Numerous camping opportunities abound. Budget facilities include hotels in Nanyuki, Meru and Isiolo.
From Kisima is a unrelenting descent called Subuiga.Many unsuspecting motorists have lost their lives at this particular section. From this section, one enjoys panoramic views of Meru Country characterised by inselbergs all the way to Mathews Range of Samburu country. Tourist attractions within the vicinity include:
Ol Pejeta Conservancy- The history of Ol Pejeta Ranch isfull of its famous visitors and equally famous multimillionaire and sometimes controversial owners. Once it belonged to settler leader Lord Delamere. In the 1980's it was the holiday getaway of the now bankrupt arms dealer Adnard Khassogi. Today it is owned by Serena Group of Hotels.

Il Ngwesi-A community ranch run by the Mukogongo Masai within the localities of Ngare Ndare forest. The local Masai run the world acclaimed Il Ngwesi Eco Loge. Besides nature walks, one can enjoy the recently constructed canopy walk.

The elephant underpass constructed below Isiolo Nanyuki/ Meru road allows elephants to cross from Ngare Ndare into Mt Kenya National Park without disturbing the traffic flow. this was funded by Richard Branson at a cost of 81M US-dollars.

National Parks of Mt Kenya, Samburu, Meru, Buffalo Springs and Shaba are within reach of this region.

Lake Nkunga- the sacred lake of Meru people

Rutundu Log Cabins:- hosted Prince William and his wife Kate Middleton when they engaged.
A visitor to this region is spoilt for activities.
Most of the ranches conducts game drives and some have night game drives

Nature walks conducted by local guides are available in the community and private ranches

Scaling Mt Kenya or hiking within the moor lands

Camel rides in community and group ranches

Fishing for tout in the lakes/ tarns and streams within the mountain

Learn adventure tricks at Mt Kenya School of Adventure- a high altitude training school

Cycling within the ranches and community ranches.